My day started as a typical day and off to work I went. In the afternoon while at work, I got a call that my one and only sister had passed on. Instantly, so many emotions ran through my mind at the same time, and I went into a shock – I couldn't talk, move, or scream! Only tears rolled down my cheeks. I was literarily going insane. My colleagues at work noticed my tears and quickly informed my boss, who rang my husband to come for me. My sister was my life-mentor, mother-figure, best friend, confidant, and the list goes on. I didn't know how I was going to live without her! In the months following that unexpected phone call, I went through different stages of grief, and finally, I have found the courage to move forward in life. Whenever I think about the loss of my dear sister, I always console myself with the beautiful memories of her – and that strengthens me."
My personal experience above is not uncommon to most people who have gone through the loss of a loved one or an acquaintance. Loss of dear ones happens every moment somewhere on the Earth to someone. Most notably, in this period of a global pandemic caused by Coronavirus. Every day, so many families across the globe are losing loved ones and friends. When we hear about the numbers of deaths per country on the media, one might be tempted to consider them as just numbers of biological entities that are no longer capable of exhibiting the characteristics of living organisms.
Although the death of humans includes the above scientific perspective, one should think about the fact that any deceased person is either someone's father, mother, sister, brother, child, niece, nephew, cousin, husband, wife, partner, friend, neighbour, colleague, employee, boss, and so on. Therefore, more than ever, we need to learn more about how to deal with such losses. And support those that are going through the loss of someone.
Following my personal experiences and interviewing people who have gone through the loss of dear ones, I have put together a couple of positive approaches that can help one to go through the loss of a loved one. Better still, with tips from this article, one will be better placed to support people that are going through such times in their lives.
1. Accept the loss, and it's okay to grieve
The pain and trauma of losing a loved one can be overwhelming! Grief itself is the intense sadness (or sorrow) that we feel when we lose a close person to death. This feeling can also be felt when we lose something that we got so accustomed to, e.g. pets, jobs, etc. No one can measure grief. The intensity varies with an individual, and only time can heal us.
First, accept the loss. Often, there is nothing we can do to bring back a loved one or perhaps there is nothing that we could have done to keep the person alive. Second, feel free to grieve and express your emotions. It is far better to let out the feelings than to bottle it up, which can lead to depression. Be very expressive, e.g. cry, talk, ask questions, seek clarifications, share how you feel about the loss, etc. I encourage you to take some time out and grieve for your loss.
2. Understand how people around you are grieving
When we grieve, there are specific things that make us feel the sadness about our losses. Always know that people around you will grieve differently. Most times, some family members get offended by the reaction of another family during the loss of their loved one. One thing to acknowledge is the fact that even though you belong to the same family, you all lost a different personality or relationship in that person. And most importantly, they are also wired differently.
For example, a family who just lost the 'man of the house' should understand that every member of the family lost a different personality. The wife lost a husband, and the children lost a father, his siblings lost a brother, his parents lost a son, the neighbours/friends lost a neighbour/friend, and so on. Even the children of such a man had different levels of relationship with the deceased; hence, they will grieve differently. Understanding this will put you in the right position to accept that each individual will mourn differently, and will require different timescale to recover. The process of grieving certainly depends on the relationship or connection to the deceased.
3. Prepare for the changes that will come with such loss
After an event of a loss, one of the biggest challenges we face is the inability to accept the new reality and to prepare for the associated changes. In the first instance, many losses come unexpectedly, that means, with less time to prepare for it. Even if you know the period that a dear one will pass on or you saw it coming, nothing actually prepares you for the life-changing events afterwards.
A loss may bring changes that will impact on relationships. For instance, the loss of a family member such as a spouse or a partner can change your life forever. Family income can be impacted (e.g. loss of a breadwinner), expertise can be lost (e.g. loss of a professional colleague), and the list goes on. It is expedient that one prepares for the coming changes. Some of the ways that you can handle this are by taking stock of the changes, planning for 'possible' alternatives, adjusting your lifestyles, seeking help from counsellors, and gleaning knowledge from people that have been through such times. Always know that whatever situation you are in, many others have gone through it before.
4. Comfort other family members (or close persons) who are emotionally weaker than you
Usually, one may not realise how emotionally strong he/she is until something happens to them. When you go through a loss, watch out for some people in your circle(s) who are coping poorly than you and support them. Naturally, some people can manage crucial happenings like the loss of a dear one more than others.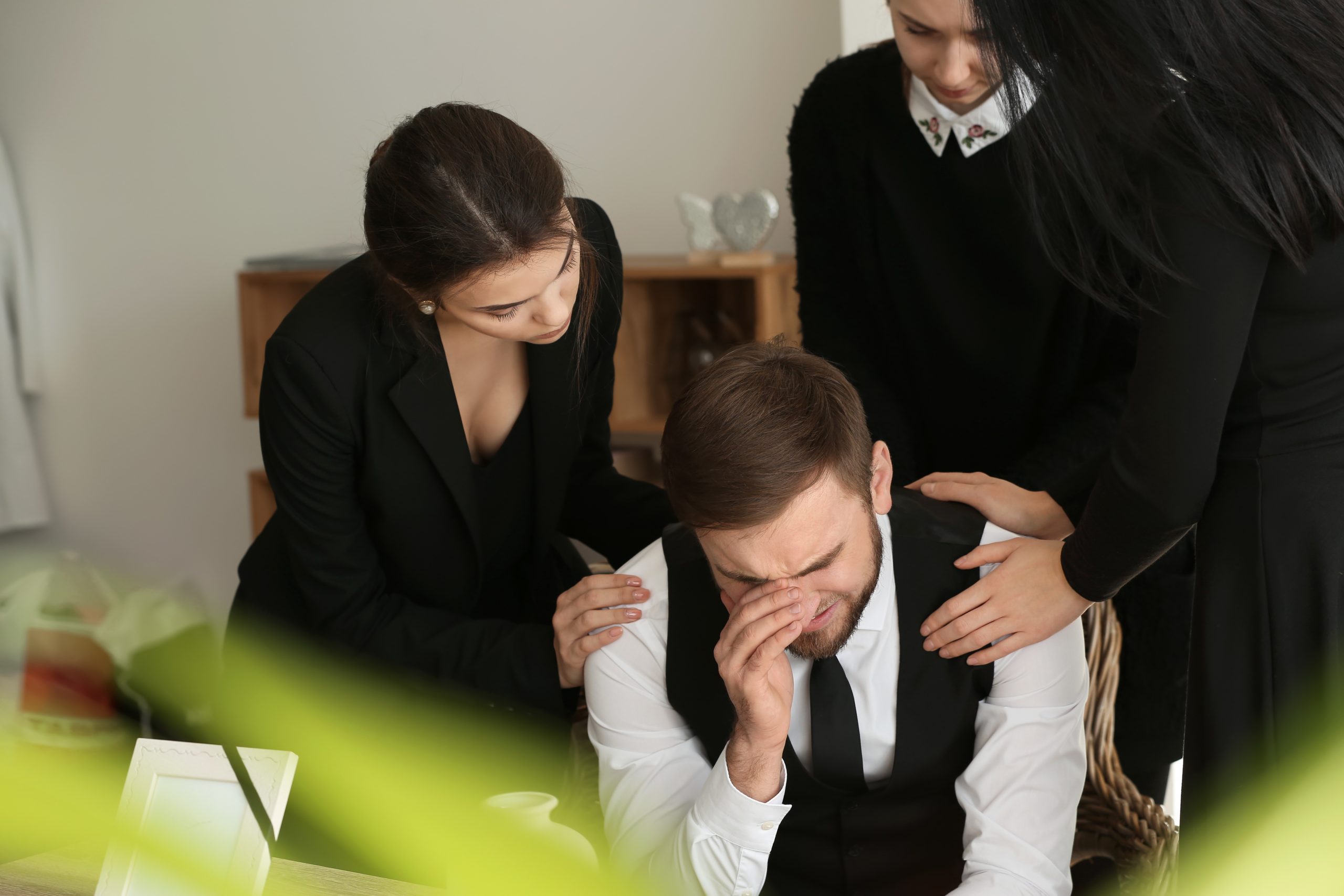 It is time to support one another in any way possible. Hold up your family members and friends in difficult times in good thoughts and prayers.
5. Maintain positive thoughts and seek peace in your soul and spirit
The time of mourning a loved one is a time to maintain positive thoughts and inner peace. First, think positively about the deceased, the good things that the person represented, the good impacts that the dead brought to our world. Second, have positive thoughts about yourself. Focus on these thoughts – (i) things will get better, (ii) it is not the end of the world, (iii) know that you will get healed (though with a scar), (iv) Know that you are loved and cared for by others, and so on.
Third, it is time to pray and seek God's comfort, peace, and help to go through the difficult times. Praying builds your spiritual awareness and gives you the hope that things will get better for you. You can seek support from your faith. A prayer or thought, such as below, can be soothing and reassuring.
"Dear God, thank you for always being there for me. Please comfort my friends and me in this period of loss. Strengthen and help me (us) to go through these difficult times. Give me peace and the reassurance to know that you are always with me. Thank you".
6. Move forward
Plan to move on and move forward in life. "Life goes on…" we say most times, and this is a fact! The clock doesn't just stop ticking; neither does the world standstill due to the loss of anyone. This might sound very hard, but it is the truth. For us to move forward after a loss, we have to;
Accept the loss, and grieve as desired. We should first acknowledge that the deceased is no more.
Understand your grieving process. Give yourself as much time as you need. For an individual, this process is unique and can take weeks, months, or even years to go through.
Seek help from the people that genuinely care about you. Your religious faith and professional counsellors can be beneficial at such times. Do not let things get worse before seeking help.
Take care of your physical body in order not to breakdown. Hydrate yourself, eat well, listen to music to soothe and uplift your hurting soul. These actions will help you to recover quicker.
Do not expect a complete closure from the loss. Most people talk of closure may be via funeral, justice, knowing the cause of the death through autopsy, or by other means. I don't believe that one can get complete closure on the loss of anyone because you will always remember the person in one way or the other. Instead, move on while focusing on the positive experiences of the life and times of the deceased.
One thing not to forget is that, though the wound might heal, sometimes the scar will still be there. The vacuum that is created by the loss is not always filled. You can only cover it.
In the end, there is nothing anyone can say or explain to take away the sorrow or trauma that one goes through. You are the only person who can pull yourself together to move forward. Forget about the myths and explanations people try to give you as a placebo. Dwell on the positive and beautiful memories of the deceased, draw strength from whatever good they stood for. Make your life and the world at large better by becoming a living representation of their good values. Learn a lesson from that life and live to become the best and the highest form of "you".
I hope this article helps you to deal with your loss or will help you to support people that are going through such moments. Please accept my condolences, and/or thank you for supporting others!
Please let me know your thoughts on the comment section. Again, I'll be pleased to know what else you consider important when dealing with the loss of a dear one. Let's talk what truly matters while we dazzle!